Nissan Oil Changes, and Nissan Auto Service in Redwood City, CA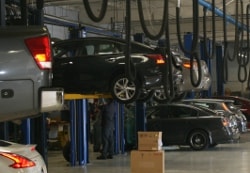 Call us today to book your oil change, preventative maintenance service, or any of your other needs!
Boardwalk Nissan in Redwood City has what it takes to keep your Nissan car or SUV running in fine form. Not only are we always running auto service specials to keep your vehicle maintenance and repair costs low, but our factory trained auto technicians have what it takes to repair your Nissan correctly, the first time.
So what makes us different?

Convenient hours including Saturdays! 
Boardwalk customers are twice as likely to return for service than our competition.
Boardwalk employs mostly master tech; these are the factory trained technicians who know your car inside and out.

A personal service consultant to guide you through the process.
Our numbers show we fix it right the first time!

We offer express services while you wait.
We have a shuttle service Monday through Friday if you chose not to.
Hertz Rental car has an office on site in addition to our own fleet of brand new Nissan Rental Cars.  
We will help you set up your Nissan One to One Rewards account.
Use of Genuine Nissan Car Parts
Boardwalk Nissan's Redwood City Auto Service Department is located just off the 101 freeway in Redwood City. Schedule your service appointment today to see the difference Boardwalk Nissan can make!
Our service team is available:
     Nissan Showroom......................................................
Monday - Friday 7:30 AM - 5:00 PM
     Main Automall Entrance (Drop-off or P/U)...................
Monday - Friday 5:00 PM - 7:00 PM
     Saturday at the Main Automall Service Entrance.......
Saturday 8:00 AM - 5:00 PMHear What Our Customers Have to Say
""
Everyone was very pleasant for being so early in the morning. A smile goes a long way. Kudos to the entire team.
--Dolores C.
""
I came in without an appointment and the gentlemen that I spoke to was very accommodating. He took care of my oil change and windshield wipers. Joe offered a car wash as well. Very nice, friendly staff
 :)
--Jennifer N