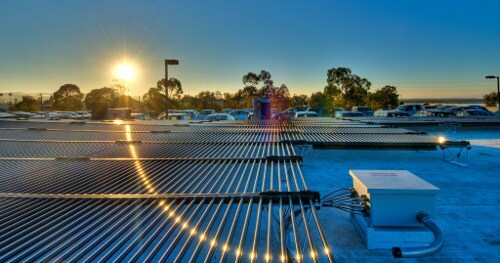 What exactly is a "Green Service Department?"
Boardwalk Nissan, part of the Boardwalk Auto Mall, has made many initiatives to make sure that they make the smallest environmental impact that they can.
Not only is Boardwalk Nissan doing their part across the Bay by selling more Nissan LEAFs than any other dealership in North America (based on 2010, 2011, 2012, 2013 and 2014 Nissan RDR data), they also charge the majority of their new LEAF inventory off of their 40 kW solar array.
Their external lights have been changed to LEDs, and when combined with the solar, their energy usage from the grid has dropped by almost 90%.
When traditional gas powered cars come in for an oil change, Boardwalk does all they can to protect the environment. Due to the fact that Boardwalk is right on the Smith Slough, they are very cautious. All of their tanks for new and used motor oil are stored above ground, to ensure that nothing in leaking into the ground water.
Old tires, old oil, and anything that can be, is sent to the recyclers.
If you want to be a patron of a dealership that cares about the environment, stop by Boardwalk Nissan today.